I know it says science and math but--
DON'T BE AFRAID!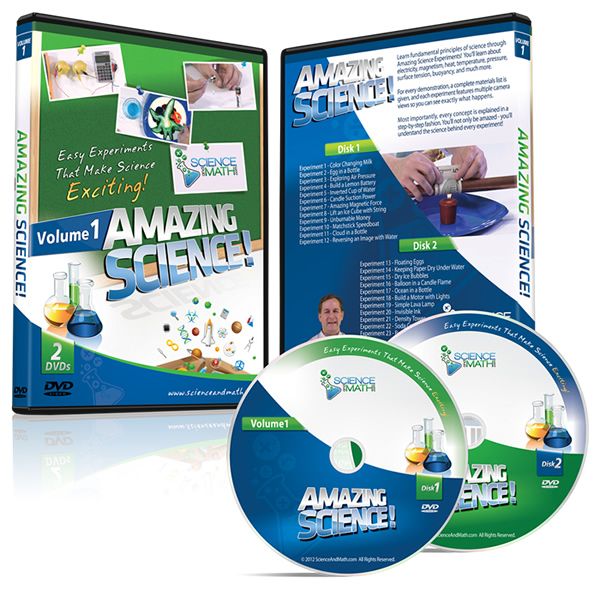 My kids went wild over this video! They wanted to watch and do watch and do. Anything that gets the kids excited by science is great in my book. My grocery list grew as they decided which experiments they wanted to watch and do first. Food coloring, whole milk, a bottle of Starbucks cappucino, a lemon, nothing too expensive. The impact on my kids has been impressive. They've watched them all. We're working our way through the do it part now. They've wanted to do the experiments over and over.
Check out this cool video trailer:
2 DVD Set!

23 Experiments!

Easy to Perform and Learn From!

Multiple Cameras!

Explanations of Every Concept!

Heat, Electricity, Magnetism, Chemistry, Physics, & More!
You've got to go to their website and watch sample of their videos.
How about building a lemon battery that will power a calculator?
Right now, you can get Volume One for just $19.95 for the DVD. That's $5.00 off.
You can get a download of Volume One for just $17.99.
You can also subscribe to get free math and science videos in your inbox.
Check it out to put a little fun into your summer break.
Read what other The Old School House Reviewers think. Just click the banner!
Disclaimer: I received this product for free in exchange for an honest review as part of The Old Schoolhouse Homeschool Crew.